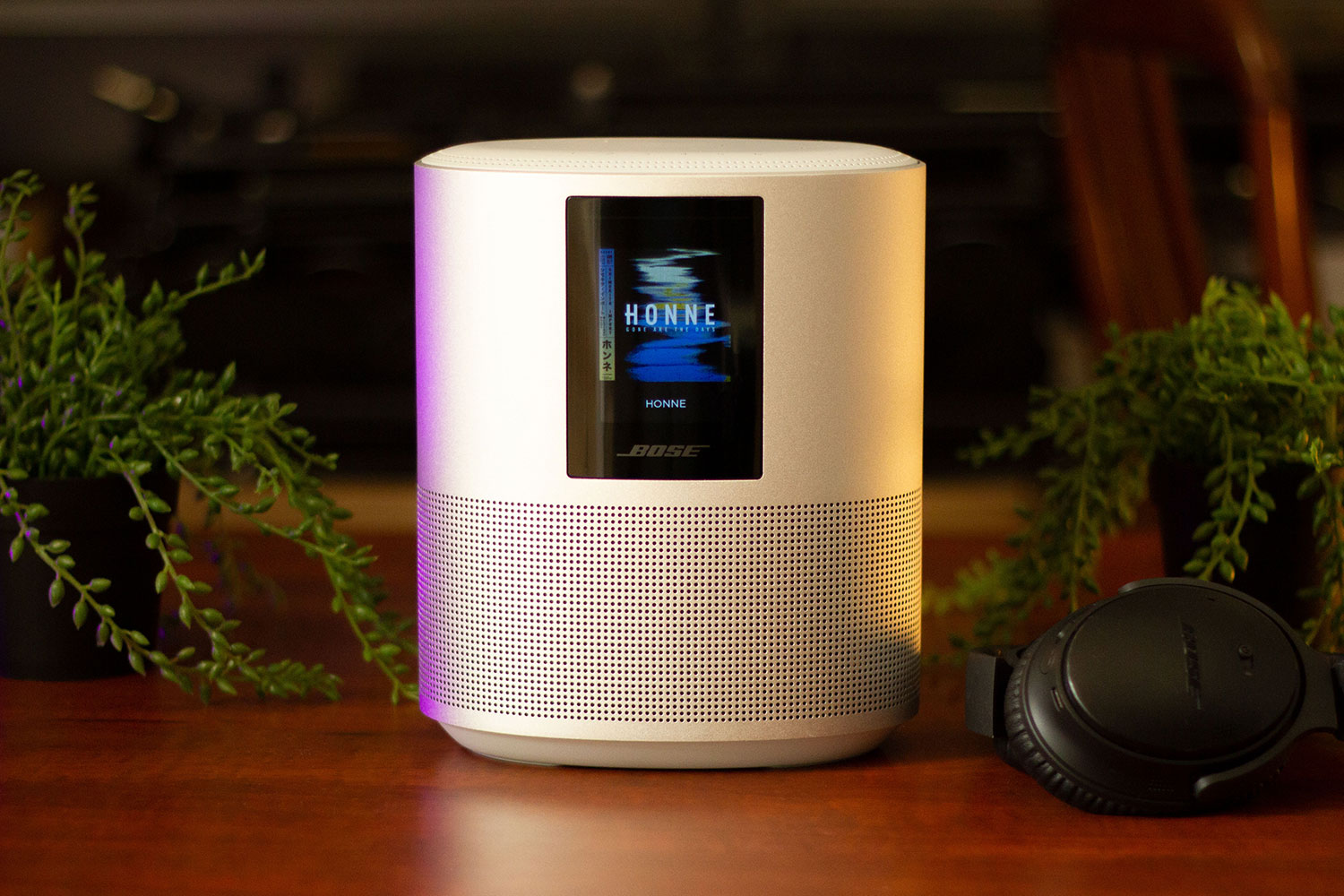 When you think of Bose, you will generally think of quality. Looking at the Bose Home Speaker 500, you can see they are sticking true with that statement. It's a smart speaker that does more than your average and includes some awesome additions that you won't usually find. Not only that, you also get that great Bose Sound. Which is why we all love Bose right?
A Smart Speaker at the Heart
The Bose Home Speaker 500 is a smart speaker when it comes down to it. And the two major voice control platforms are supported. Amazon Alexa and Google Assistant.
Using a custom 8 microphone array means that even when the tunes are pumping, the voice control can hear your commands. So no more shouting and cursing at our AI overlords.
Testing this feature out myself, I could be at the other end of a 6 metre long room with music blaring and Google Assistant could set an alarm without needing to stop what I was doing.
Most voice commands are supported, with only a few like Chromecast abilities which shouldn't affect most people. In the end, though, we are here for the Music. Which is where the Bose Home Speaker 500 has some great features.
Music makes the sound go round
Spotify and Amazon Music are the primary music services that work with the Home Speaker 500. I personally use Spotify which means I can control the music one of three ways. Either from the Bose Music App, the Spotify App or the Spotify Desktop program.
I did happen to try asking Google Assistant to play music using Google Music, but I was quickly made aware that this feature isn't available on the device. As it stands, Google Music is being shutdown shortly so this shouldn't be a huge deal breaker.
Another great feature of the Bose Home Speaker 500 is that it can produce Stereo instead of the mono sound that other smart speakers produce due to their small form factor. The Home Speaker 500 has this covered with two custom drivers that bounce the sound of walls to provide a Stereo sound.
Many Ways to Connect
Before you can start using your device, you need to set it up using the Bose Music App on either an Apple or Android device. The process was quite simple after being walked through setting up the WiFi connection and linking the device to a Bose Account.
You are given the option of which Voice Control service you would like to use as well as the preferred music service. I went with Google Assistant and Spotify as this is what I personally use in my day-to-day routine. After a quick Firmware update, using the smart speaker was just an "OK Google" away.
Connections supported are WiFi, Bluetooth, Apple AirPlay 2 or a 3.5mm Aux jack at the rear. It was really nice to see a physical port in a device rather then relying on wireless connections.
Bose Signature Quality
Bose has always been associated with high-end audio for countless years. And the Home Speaker 500 is no different. The body of the smart speaker is constructed from anodised aluminium and comes in either Triple Black or Luxe Grey. The speaker holes have been directly milled into that piece of aluminium a full 360 degrees for not only a classy look but a functional way of producing that sweet stereo sound.
On the front of the unit is a full-colour LCD that functions as an artwork display for the current music playing. As an extra bonus, you can setup an on-screen clock for when the music isn't playing.
I'm going to say it again, but including the 3.5mm jack at the rear means other devices can be used without requiring a wireless connection. Apple. And we also have physical controls on the top of the unit which, again, Apple.
Control
Controling the Home Speaker 500 can be done via a Phone, Tablet, Desktop Computer or the physical Control Panel on top. Physical controls are often limited on smart speakers so having these included is great for those out there that want to have control at all times.
As an added bonus, there are 6 programmable buttons (labeled 1 through 6) that are configurable from within the Bose Music App. These are limited to single tracks at the moment (would be great to add more options to this feature if you are reading, Bose which is great if you want to quickly start your favorites with just a single button.
Being able to stop or pause a track without asking Google or Alexa is a lot quicker in my opinion by just pressing a button. No wasted seconds, merely press and be done with you.
Conclusion
If the quality of your audio hardware and sound is important, then the Bose Home Speaker 500 will be for you. It's solid construction and multiple connection options mean this smart speaker will stand apart from the regular plastic ones out there.
The big sound you get from this single small speaker is amazing especially when trying to reduce clutter in a small space. And not to mention, you also get that Bose Quality Sound.
You can find out more information about the Bose Home Speaker 500 on their website.
Image Credits: Jonathan Russell