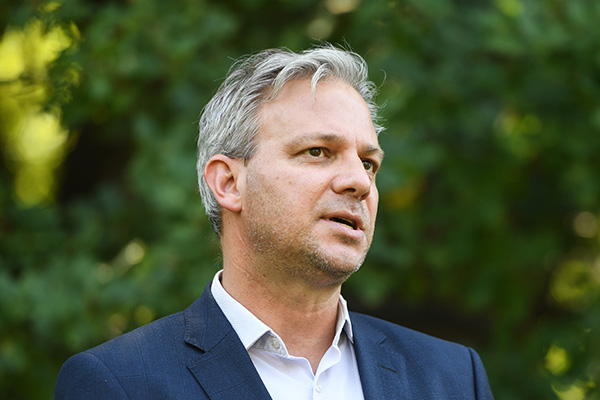 Victoria has recorded two new cases of coronavirus on the third day of its "circuit breaker" lockdown.
The Health Department on Monday confirmed one of the cases is locally acquired, while the other is a returned traveller in hotel quarantine.
The total number of active cases in the state is now 21.
More than 25,000 Victorians were tested for the virus on Sunday.
It is not clear how the new case is linked to the Holiday Inn hotel quarantine outbreak, which on Sunday totalled 16 cases.
Two new cases reported on Sunday were a three-year-old child and a woman in her 50s from separate households who were at a family function on Sydney Road in Coburg on February 6.
The function was attended by 38 people including a worker at the Holiday Inn who had returned a negative test result on February 7.
The venue was not listed as an exposure site until February 12, two days after the hotel quarantine worker eventually tested positive.
Victoria's Chief Health Officer said a review of the worker's negative test on February 7 found it was a "false negative".
"To be a weak positive but to be infectious enough to actually cause infection in other people at an event is very unusual," Professor Sutton said.
The child's mother is also a suspected case after returning three conflicting test results in 24 hours.
Burnet Institute epidemiologist Michael Toole said the function does not appear to be a super-spreading event.
"Those two people at the Coburg site were infected about a week ago, or were exposed a week ago. We haven't had any other cases outside of close contacts, so that's looking good," he told 3AW radio.
Professor Toole said he supported the five-day precautionary lockdown.
"It was shown in Brisbane and Perth that this approach does work," he said.
"It looks like there hasn't been extensive spread here."
Health Minister Martin Foley would not be drawn on whether Victorians could be confident the "circuit breaker" lockdown would not be extended beyond Wednesday.
"It is too early to say whether we have been successful," he told reporters on Sunday.
"But the signs show Victorians are doing the right thing, backing each other and our test, trace and isolate system is staying ahead of this.
"We will continue to monitor it on a day-by-day basis; really it is up to the shared effort of all Victorians."
© AAP 2021
Photo: Victorian Chief Health Officer Brett Sutton (AAP Image/Erik Anderson)